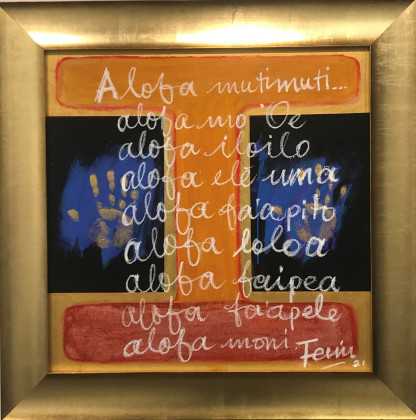 Alofa Mutimuti
2021
Into Autumn
New and selected works by contemporary and prominent NZ artists
Fatu Feu'u
JS Parker
Jeff Thomson
Kara Burrowes
Jim Wheeler
Bridget Bidwill
May-June 2022
Rare early works by JS Parker, alongside new and recent works by prominent and collectible NZ artists
Winter from the gallery door
Details of this exhibition are currently under review
The Diversion Gallery exhibits fine art by leading New Zealand contemporary artists, in a stylish gallery on the waterfront in Picton, Marlborough.
We offer paintings, drawings, sculpture and limited edition prints by some of New Zealand's most collectible fine artists. Many are acclaimed senior or mid-career artists of national and international repute, and whose work is held in major public galleries and private collections; from time to time we introduce emerging artists of distinctive talent. We also have a small selection by New Zealand fine art jewellers.
Hours: NB Closed for winter break 15 June to 3 July. Usual hours Wed-Sunday 10am-4pm (but we'll open on request). Please contact us to view non-exhibition works from the offsite stockroom.
We ship nationally and internationally.