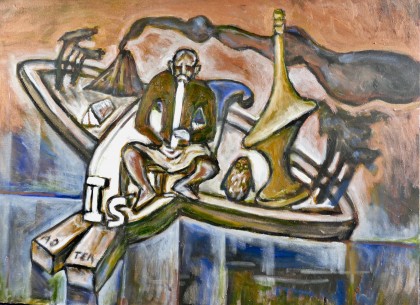 Is Land by Nigel Brown
2020
Island II – Group summer exhibition
Nigel Brown, Gerda Leenards, Gaham Bennett, Michael Smither, Mary McFarlane, John Walsh, Llew Summers, Emma Bass, Claire Beynon, Gregory O'Brien & John Pule, Jim Wheeler
February to March 2021
Continuing from our December exhibition - Island, what it is to be an island nation.The events of 2020 have given New Zealanders pause, to rethink how we live - or should live; who we truly connect to; ideas around being a nation surrounded - or protected - by ocean. Artists respond to the concept of 'Island' with new and earlier works.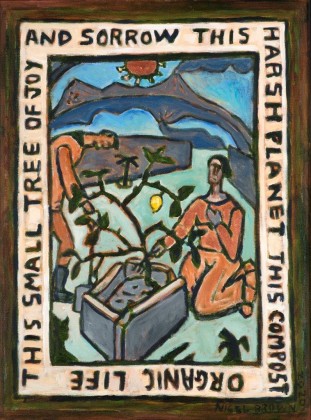 Organic Life
2020
Organic Life – Nigel Brown
Nigel Brown
21 March - 19 April 2021
Preview: 21 March
2pm
New paintings from New Zealand's major narrative painter.
Details of this exhibition are currently under review
The Diversion Gallery exhibits fine art by leading New Zealand contemporary artists, in a stylish gallery on the waterfront in Picton, Marlborough.
We offer paintings, drawings, sculpture and limited edition prints by some of New Zealand's most collectible fine artists. Most of the gallery's stable of artists are acclaimed senior or mid-career artists of national and international repute, and whose work is held in major public galleries and private collections; from time to time we introduce emerging artists of distinctive talent. We also have a small selection of pieces by New Zealand fine art jewellers.
Hours: The gallery is open Wednesday to Monday 11am-4pm in summer, Tuesday (and other hours) by appointment. Hours may change as Covid-19 lockdown levels are reviewed.
Please contact us to view non-exhibition works from the offsite stockroom.
We ship nationally and internationally.