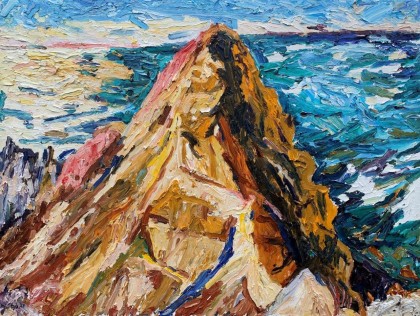 Huriawa by Wayne Seyb
Oil on canvas, 929x1220mm, 2021
Wayne Seyb Confluence: Earth/Sky
Wayne Seyb
Saturday May 8 - Sunday June 13
Preview: Saturday 8 May
4pm
Wayne Seyb returns with a powerful suite of paintings, finding new strength not only in the landscape but also in the night sky - with a growing consciousness of human impact on both, and of the value of connecting naturally with earth and sky.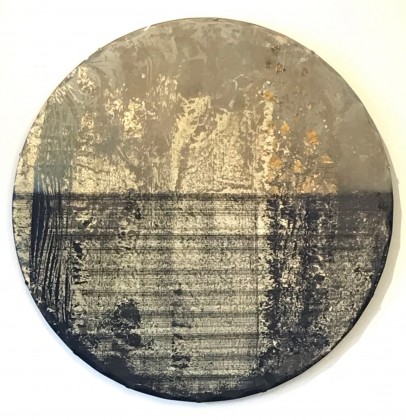 My Horizon I by Mary McFarlane
2020
Silent Order
Seeking stillness in a changed world
Mary McFarlane
Saturday 3 July to 7 August 2021
Preview: Saturday 3 July 2021
4pm - Mary McFarlane will attend
There's a fleeting, watery quality in some new mirror works, others glittering with gold leaf and silver over oil paint, evoking the cascades of Fiordland, or the moon and planets in a midwinter night sky. Alongside major works are intimate miniatures: 'I like the act of looking at small works - the peering, the bending forward, a precious quality, demanding time.' Each bevelled edge or frame, from decades past, prompts personal memory, the viewer mirrored in the work.
Details of this exhibition are currently under review
The Diversion Gallery exhibits fine art by leading New Zealand contemporary artists, in a stylish gallery on the waterfront in Picton, Marlborough.
We offer paintings, drawings, sculpture and limited edition prints by some of New Zealand's most collectible fine artists. Many are acclaimed senior or mid-career artists of national and international repute, and whose work is held in major public galleries and private collections; from time to time we introduce emerging artists of distinctive talent. We also have a small selection by New Zealand fine art jewellers.
Hours: The gallery is open Wednesday to Sunday 11am-4pm in winter, Closed Monday – Tuesday (except by appointment).  June 21-26 closed for short winter break.

Please contact us to view non-exhibition works from the offsite stockroom.
We ship nationally and internationally.