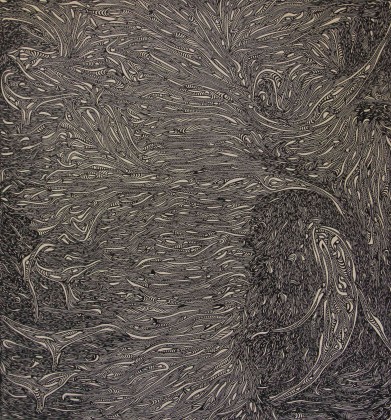 Abundant Life I by Josh Bashford
2016
Summer Exhibition
an evolving exhibition through high summer
Mary McFarlane, Nigel Brown, James Robinson, Fatu Feu'u, Bing Dawe, Graham Bennett, Llew Summers, Gerda Leenards and more
1 December 2016 to 18 January 2017
Wreathe
handwoven corrugated iron
Wreathe – Jeff Thomson
solo exhibition - new and recent works
Jeff Thomson
26 January - 22 February 2017
Preview: Wednesday 25 January
6pm
Knitted, plaited, woven - Jeff Thomson, NZ's master of corrugated iron art, domesticates this gnarly medium into ephemeral and intricate wall sculptures.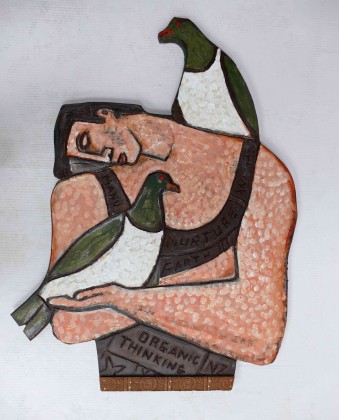 Organic Thinking, relief painting on ply
2016
Organic Thinking – Nigel Brown
New and recent paintings - solo exhibition
26 February - 5 April 2017
Preview: Sunday 26 February
4pm
Nigel Brown returns to Marlborough with a solo exhibition of striking, organically painterly works embracing many of the themes and 'characters' who have populated his narratives over the last 45 years.
The Diversion Gallery exhibits fine art by leading New Zealand contemporary artists, in a stylish gallery on the waterfront in Picton, Marlborough.
We offer paintings, drawings, sculpture and limited edition prints by some of New Zealand's most collectible fine artists. Most of the gallery's stable of artists are acclaimed senior or mid-career artists of national and international repute, and whose work is held in major public galleries and private collections; from time to time we introduce emerging artists of distinctive talent
The Diversion Gallery also has a selection of jewellery pieces by New Zealand art jewellers.
The gallery is open 12-5pm Wednesday to Saturday, or viewing welcome at other times and days by arrangement – just call or text 0274 408 121.. also please advise if you'd like to view other works from the stockroom.
We ship nationally and internationally.